Production Notes for The Ultimate Adventure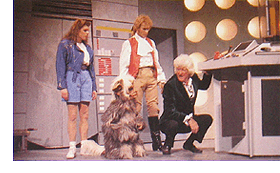 The TARDIS control room set, like everything in The Ultimate Adventure, was built by Suffolk Scenery. The design differed from the TV series in a number of ways. It featured two doors on the left hand wall; one leading outside the ship and one to the rest of the interior. This wall also had no roundels but instead some buttons and readouts. Where the set did feature roundels on the rear wall they were in a square grid pattern instead of the customary hexagonal arrangement. The console was altered from the TV version, having a wider base and narrower top section containing the controls. The central column also recessed entirely back into the console, unlike the TV version that was always at least partly visible.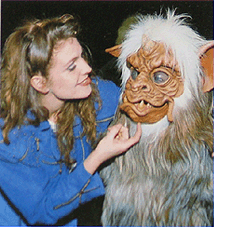 The Dalek props are discussed in detail in The Daleks page. The Cybermen costumes were made new by Derek Handley to match the style that appeared in Attack of the Cybermen. Derek Handley was also responsible for creating the new Draconian mask for the play, and the Vervoid mask came from BBC stock.

Set designer Paul Staples has been responsible for many music and theatre productions including Pink Floyd's 1988 tour.

Peter Foy's company began UK wire-work around 1984 and they provided the flying effects for The Ultimate Adventure.

The mask for the alien creature called Zog was created by Susan Moore.

The Production Carpenter on the tour was Geoff Summerton who left his job as Technical Stage manager at the Churchill Theatre in Bromley to go out on tour with The Ultimate Adventure for six months. He was responsible for building the set and rehearsing the local crews at each venue. He was also in charge of moving the whole setup around the country including some ridiculous moves such as Wimbledon to Aberdeen and Leeds to Brighton! When the show would finish at 10pm they would have to load three articulated lorries and roll overnight to the next venue to be up at 9am the next morning.
The role of Jason was played by Graeme Smith until mid-July with the exception of one night. This was a Saturday in Mold, Wales during which the actor was suffering from food poisoning. It was his only perfmornace missed due to sickness in his career and he did not even go home. Smith had a camp bed set up in his dressing room so he could monitor the show over the tanoy. By the evening, he was feeling well again however was was advised to stay off for the remainder of the day. He did however anonymously join in a few of the crowd scenes so made an appearance after all.


If you have any notes relating to the production of this play, please email your contribution.

Thanks to Derek Handley and Geoff Summerton